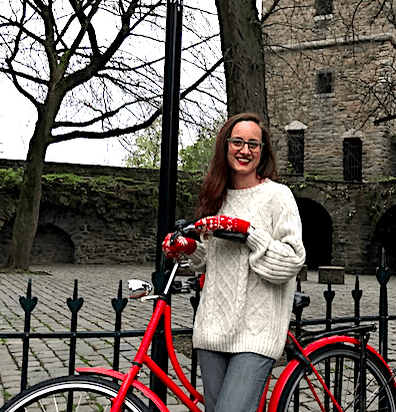 By Becky Castle Miller
A friend who was working on Christmas shopping asked me for gift basket recommendations for a woman called to theology and pastoring. I had fun putting together a list for him.
If you are a woman in ministry, what would you like to find in your gift basket?
Earplugs to block out people saying just "1 Timothy 2:12" over and over
A dress with POCKETS to hold a lapel mic for preaching
Sturdy boots for stomping out crisis fires
A hammer to smash the glass steeple
Frosty breath mints for when she needs to speak kind words but wants to breathe fire
Tissues for crying congregants (or herself)
A name tag with "Jezebel" crossed out and replaced by her correct name
A locket necklace to remind her of the people she carries on her heart
Toothpicks to prop open her eyes when reading a dry-as-dust commentary after waking up at 2 a.m. with sick kids
An origami instruction book to turn hate mail into art, following the example of Rachel Held Evans
A new bookcase to hold all the volumes written about biblical support for women in ministry
The mythical preaching outfit that is modest but not frumpy, stylish but not flashy, fitted but not too fitted, professional but not businesslike, and, again, POCKETS
Or, if she serves in a liturgical church, a custom-made clergy stole with a hidden pocket for a phone and mic pack, such as these from Joy Engelsman
A sign to wear around her neck that says, "I'm not the pastor's wife, I'm the pastor"
File folders to hold the handwritten notes of love, appreciation, and encouragement from people she has ministered to
Comfy high heels in all the colors of the liturgical calendar
Emboldened by Tara Beth Leach
The Vulnerable Pastor by Mandy Smith
More Than Enchanting by Jo Saxton
Pastor Paul by Scot McKnight, in which he refers to pastors in general as "she"
Raise Your Voice by Kathy Khang
Stephanie Nelson (@stephanienels) added some additional great ideas on Twitter:
A t-shirt saying "Preach Like a Girl"
The right shade of lipstick to "greet each other with a holy kiss"
A gym membership to work out all the aggression that comes from within because of fighting the patriarchy. Peacefully.
An elevator speech to address the clobber passages
Gifted to Lead by Nancy Beach
Now That I'm Called by Kristen Padilla
Share in the comments what you would add to this gift guide.
Becky Castle Miller serves on the pastoral staff at an international church in Maastricht, Netherlands. She is the author of the study guide Teaching Romans Backwards and the co-author, with Scot McKnight, of the discipleship curriculum Following King Jesus. She conveys her five kids around town on bikes and studies New Testament in the middle of the night via Northern Live. Connect with her on Twitter and Instagram @bcastlemiller.